SkinTheory
The simple acne & skincare tracker app
It's free and finally released! 🎉
It's easy to feel lost in your acne . . .
Everyone in the world has their own special skin.
This makes it hard to know what will work for your own acne. You may have to try several niche skincare products, different dosages, or even more complex skincare routines before something starts to work with your skin.
On top of that...
There are so many other factors to keep track of that affect acne.
You started going to the gym and sweating more.
You didn't wash your bed sheets this week.
Your new regimen dehyrdates your skin and you'll also need to moisturize.
You may have tried this regimen before but forget the effects.
And other conditions such as: Skin Congestion, Oily Skin, Dry Skin, Anti-Aging/Wrinkles, Crows Feet, Eczema/Dermatitis, Rosacea, Psoriasis, etc.
Outsmart your skin with SkinTheory,
a helpful app to organize and track your skincare routines.
Based on the Scientific Method, the SkinTheory app is your skincare lab notebook. Experiment with skin & acne regimens, routinely take photos and written logs, create your ideal skincare regimen.
The SkinTheory Method is just 3 simple steps:
Find an acne regimen you want to try. 🔎
In the Regimen text box input your
regimen and time period:
"No dairy consumption. x2 weeks until "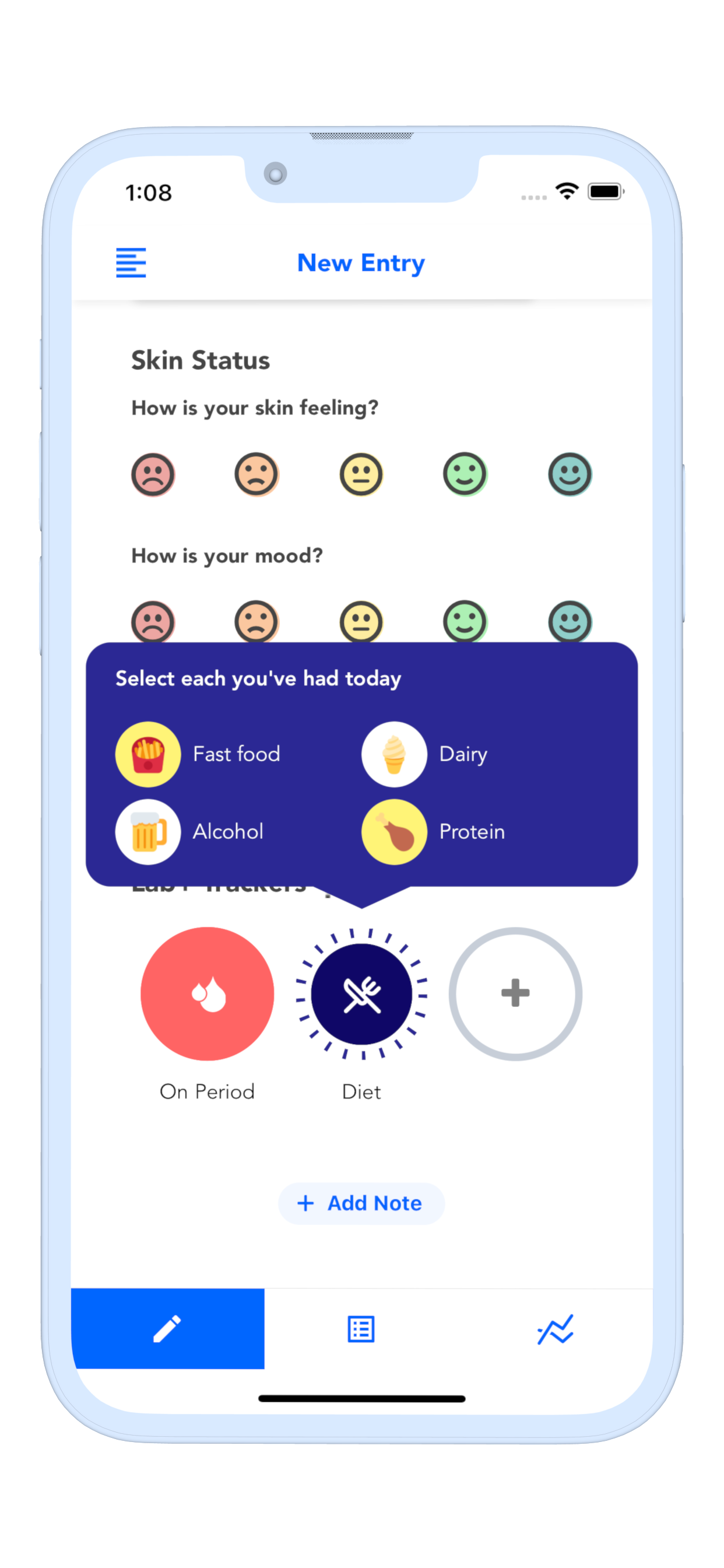 Take photos and write Skin Status logs every day or so. 📸
This will immediately help your skin's progress. The more logs the better. Try to isolate potential acne factors, i.e how you are sleeping, stress, working out.
Analyze you entries between weeks. 🔬
Use the timeline page to compare your photos and logs over the last week or 2 weeks... Has your acne improved in each spot? Stick with it! Has your acne worsened? Maybe tweak your regmien or try a new one and restart the cycle!